Benign growths and moles
Benign (non-cancerous) growths and moles can appear in various shapes and sizes. While they aren't harmful, often people find them unsightly or they can become itchy and irritating. Using very rapid oscillating (4MHz) radiofrequency in a procedure known as Surgitron RF, our doctors can removed raised growths with no damage to surrounding tissue. The precision and safety of Surgitron RF enables us to treat delicate areas like eyelids, face, necks, and chests with confidence. The lesions we can treat include skin tags, age spots (Seborrhoeic Keratoses), raised moles (dermal naevi), fibrous papules of the nose, and dermatofibromas.

Skin cancer
There are two main types of skin cancer, melanoma and non melanoma skin cancer (NMSC). The most common sub-type of melanoma is superficial spreading melanoma, while the most common non-melanoma skin cancers are basal cell carcinoma (BCC) and squamous cell carcinoma (SCC). Having a yearly full-body skin check with one of our expert skin doctors, in conjunction with regular self-checks every three months, will aid in early diagnosis and treatment.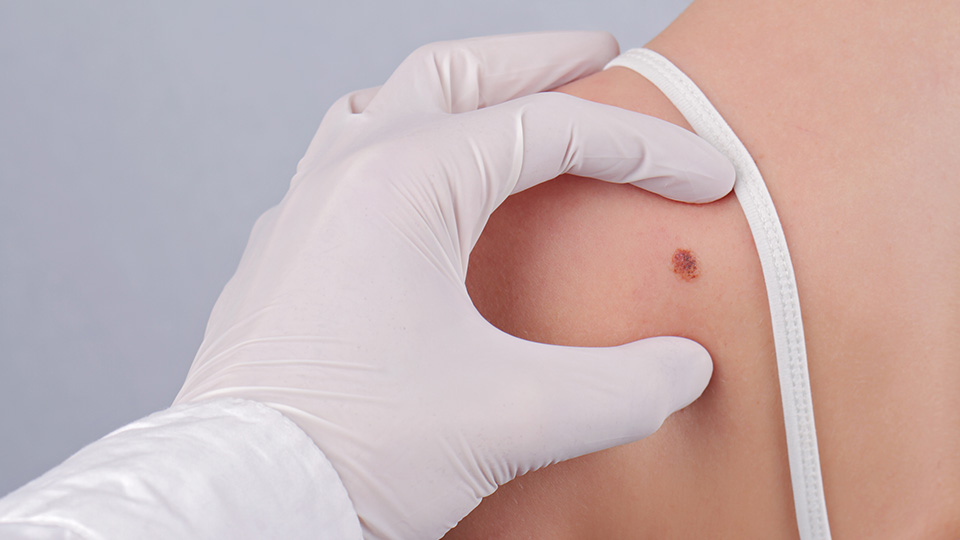 Pre-cancerous spots
Actinic keratoses are very common pre-cancerous sun spots. They lie in the outermost layer of the skin and can therefore be treated with a variety of superficial treatments. Actinic keratoses are the precursor to nearly all squamous cell carcinomas (SCC) and many basal cell carcinomas (BCC). Appearance wise, they are often red, rough and raised, with a scaly or crusty texture. Our doctors can effectively treat these lesions, often improving the quality of your skin in the process.

Sun-damaged skin and extensive pre-cancerous spots
Extensive sun damaged skin (also known as field change) is a common occurrence in Australia. Facial field change can be treated with photodynamic therapy (PDT) and 5-flurouracil. PDT generally provides a better cosmetic outcome and requires less treatment time, as well as less down time. Our doctors often combine this treatment with medical-grade chemical facials or peels and LED light therapy to achieve superior results and slow any recurrence.
Anyone with changing spots, or spots that look very different to others on their body, should have them assessed by an accredited skin cancer doctor as soon as possible.
Even if you are unsure if your spots have changed, it's worth having a doctor check your skin to ensure nothing's amiss. If you have a history of sunburn, multiple spots, previous skin cancer, or a family history of melanoma, you are at risk of skin cancer. The same is true if your family has light-coloured skin, even if you yourself have darker skin.
Remember that the damage may have been done when you were young, so just because you don't get sunburnt anymore doesn't mean you're safe from skin cancer.
Spot check

If you're concerned about a specific spot, we recommend getting a spot check done by our skin cancer doctors. High resolution digital and microscopic photography enables us to examine the lesion in detail, and create an accurate diagnosis of the risk of skin cancer presented.

Full-body skin check

This is a thorough examination of the body which allows us to create a holistic diagnosis of your skin. Any suspicious lesions are photographed with a specialised device (dermatoscope). These high resolution images can be magnified up to 100x for more detailed examination.

Mole mapping

Recommended for more high risk patients, mole mapping is undertaken in conjunction with a full-body skin check. High resolution digital photography of your entire body is taken. This process is repeated 6-12 months later, so that small changes can be identified and assessed for clues to malignancy.
Ready to make an appointment?