Early detection saves lives
Melanoma is the third most common cancer in Australia, and more people are being diagnosed with it every year.
The good news is that, if detected early, there is approximately a 99% chance of survival as the melanoma can be confined to the skin. Delayed diagnosis, however, may result in the melanoma spreading to other parts of the body. Once this occurs, it becomes a highly aggressive cancer which makes it difficult to treat.
Unfortunately, melanomas don't present symptoms so the only way to find them is to examine your skin.
A full-body skin check by an accredited skin cancer doctor is the best aid in early diagnosis.
Anyone with changing spots, or spots that look very different to others on their body, should have them assessed by an accredited skin cancer doctor as soon as possible.
Even if you are unsure if your spots have changed, it's worth having a doctor check your skin to ensure nothing's amiss. If you have a history of sunburn, multiple spots, previous skin cancer, or a family history of melanoma, you are at risk of skin cancer. The same is true if your family has light-coloured skin, even if you yourself have darker skin.
Remember that the damage may have been done when you were young, so just because you don't get sunburnt anymore doesn't mean you're safe from skin cancer.
Spot check

If you're concerned about a specific spot, we recommend getting a spot check done by our skin cancer doctors. High resolution digital and microscopic photography enables us to examine the lesion in detail, and create an accurate diagnosis of the risk of skin cancer presented.

Full-body skin check

This is a thorough examination of the body which allows us to create a holistic diagnosis of your skin. Any suspicious lesions are photographed with a specialised device (dermatoscope). These high resolution images can be magnified up to 100x for more detailed examination.

Mole mapping

Recommended for more high risk patients, mole mapping is undertaken in conjunction with a full-body skin check. High resolution digital photography of your entire body is taken. This process is repeated 6-12 months later, so that small changes can be identified and assessed for clues to malignancy.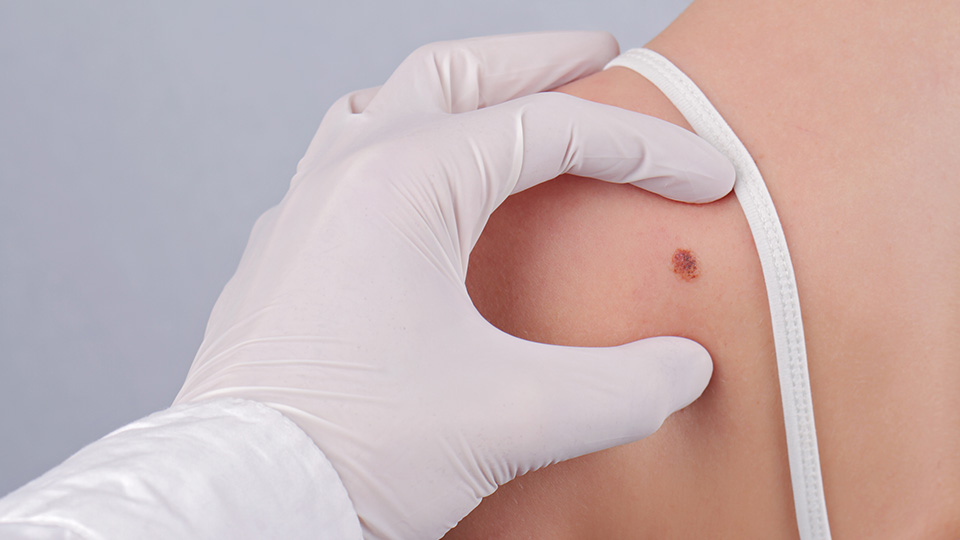 Sun-damaged skin and extensive pre-cancerous spots

Skin checks
We can conduct a number of different skin checks for patients who are concerned about their risk of skin cancer, including specific spot checks, full-body checks, and mole mapping.

Biopsies
A biopsy may be undertaken if your doctor thinks you may have a skin cancer. Local anaesthetic is injected to make the skin numb. A small amount of tissue is removed and sent to a pathology lab for a diagnosis.

Excision
Excision is the gold standard of skin cancer treatment, resulting in the highest cure rates. While generally a simple procedure, it may require a more complicated closure with a flap or graft.

Topical treatments
There are various creams your doctor may prescribe to treat pre-cancerous spots, depending on your clinical need. Topicals are usually well tolerated, making them an excellent choice for pre-cancerous lesions.

Photodynamic therapy (PDT)
Using medical-grade LED (light-emitting diode), PDT selectively destroys abnormal cells in the skin without any damage to normal cells. Compared to topicals, PDT has a faster treatment time and recovery period.

Diathermy and Curettage
This procedure is useful for treating superficial skin cancers in certain patients, particularly those with multiple superficial lesions on non-cosmetically sensitive sites.

Scarless mole removal
Non-cancerous moles can be easily removed using radio frequency at very high oscillation rates (4MHz), resulting in a barely perceptible scar, no down time, and no need for prolonged coverage.

Cryotherapy
Liquid nitrogen has been used in skin cancer and general dermatology for years and can treat up to 50 different benign conditions. It is inexpensive, effective, and has minimal downtime in experienced hands.
About DermEngine
DermEngine is an advanced dermatology software which allows for the earliest possible detection of melanoma and other skin cancers. This technology is used in-house at Bass Coast Skin Doctors.
Powered by artificial intelligence (AI), DermEngine is able to capture high quality dermoscopic imagery, from specific areas of skin to the entire body. The platform enables us to closely document patients' results and analyse for the risk of skin cancer.